Oil and Gas – Onshore
Onshore Features
Key Features
Water treatment system customized to meet the needs of flow-back & produced water – our units can treat any volume of water & can be designed to return clean brine or fresh water for reuse on subsequent drilling or completion jobs
Treat the source water to eliminate contaminants (bacteria & solids) prior to chemical mixing & Frac operation
Efficiently separate high volumes of oil water to capture oil losses from emulsified water in skimmer tanks.
Key benefits:
Recover water for subsequent frac jobs
Recover lost oil & water from production operations
Minimize waste disposal & trucking impacts
Ensure current & future environmental & regulatory compliance for recycling, reuse & safe disposal of water.
Our units are able to perform several roles throughout the entire exploration & production process.
Frac Water Treatment
Treatment Option #1:
Treat Source Water at Water Acquisition Site
Frac operations will source raw water from a pond, lake, river, pit, etc. and will haul or pump this raw water to the frac operation.
Brinco Water can treat this raw water prior to hauling or pumping at the water acquisition point. Brinco Water units will remove contaminants (bacteria & solids) at the source so that clean water is hauled to the frac operation prior to chemical mixing & frac operations.
---
Treatment Option #2: Frac Well Site Treatment
Our units serve a duel purpose during the frac operations:
Treat raw water prior to chemical mixing to eliminate bacteria & solids
Treat frac flow-back fluid to recover water for subsequent drilling & completion projects
Recover any oil that may be present in flow-back fluid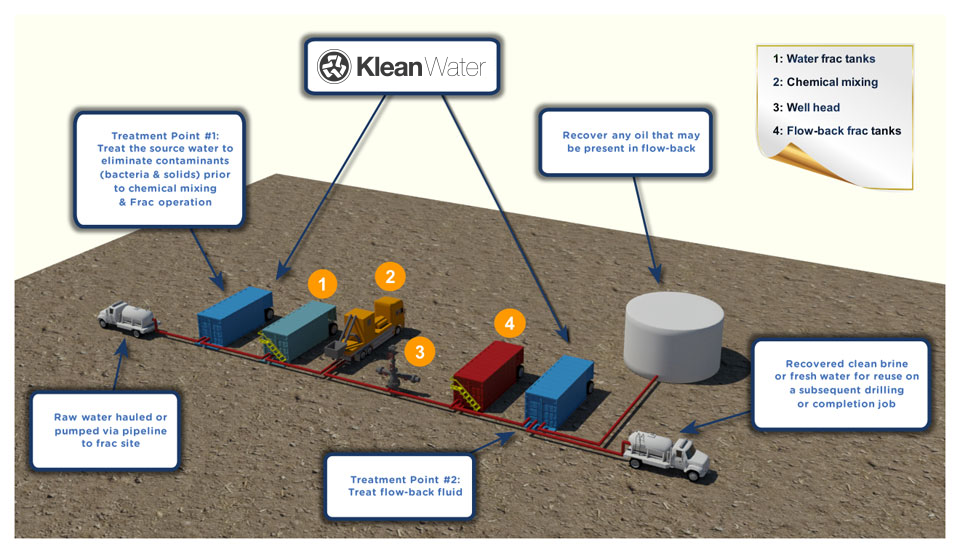 Treatment Point 1
Brinco Water can treat raw water at the frac site. The raw water is stored in water frac tanks and is then blended with sand/proppants & chemicals and pumped down-hole. Depending on the quality of the raw water, bacteria & solids can be present in the water which can cause quality & efficiency problems when blended with the sand & chemicals.
Our water treatment unit can be placed before the water frac tanks & clean the water to remove all contaminants before the water is mixed with the chemicals, and pumped down-hole.
Treatment Point 2
A Brinco Water unit can also be utilized to process the flow-back fluid after the frac. Our unit can be placed after the flow-back / cleanup frac tanks so it can treat the flow-back fluid. So it can treat all fluids during the cleanup process.
On average 20% – 40% of the chemical-water solution that is pumped down-hole will be recovered during the flow-back process. This can represent as much as 4,000,000 gallons of flow-back fluid.
Typically, the flow-back fluid is hauled to disposal or injection wells. Brinco Water units will treat this water so that it can be recycled & reused on subsequent drilling & completion / frac jobs. This saves money by cutting trucking & disposal costs and limiting the amount of fresh water that would need to be purchased for the next frac job.
Production Process
Our units serve a critical role during the well production process.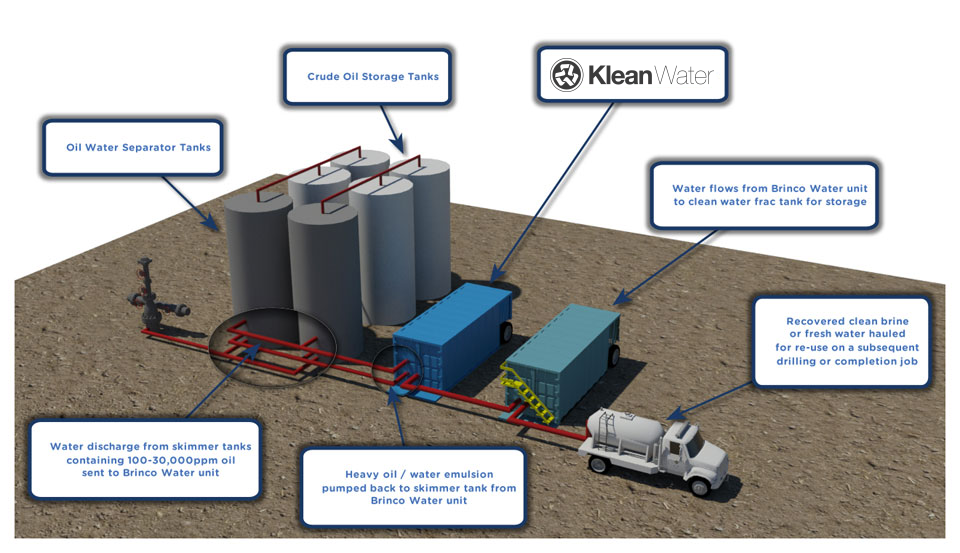 In some instances, as much as 3-4 barrels of water are produced to every barrel of oil during the production process.  Gravity based oil water separators are utilized to separate the oil from the water.  However, these systems do not remove all the oil.
Klean Water units will remove both oil & total suspended solids (TSS) from any produced water.  The recovered water can be treated to a clean brine or fresh water standard for reuse on subsequent production / completion projects.  The Klean Water unit returns heavy emulsion back to the skimmer tank from where the oil is recovered.
Central Facility
Centralized Water Acquisition & Disposal Facility
Where an Operator has a number of wells in close proximity, it may be beneficial to build a central located facility for the disposal & processing of the wastewater.  This facility could be located at the same location as the Water Acquisition site, which would create additional water distribution savings.
Trucks haul to a wastewater lagoon where Klean Water will treat the water and introduce it to a fresh water storage pit.  This allows the haulage trucks to drop off wastewater and collect recovered water to be hauled to the next drilling or completion job.